StoreTender Online
​
​
Call Toll Free: (877) 627-0636, Direct: (603) 627-8728 or Email: SOLUTIONS for POS
What is StoreTender Online?
StoreTender Online is a New Way of running a full featured Grocery Store Point of Sale package online that is designed to handle the demanding requirements of today's supermarkets. Individual modules allow you to select the areas of operation you wish to control such as ordering, receiving, pricing, sales ads, shelf labels, loyalty programs, inventory control, cashier management, and of course, point of sale.
We developed a complete Point of Sale software (POS) solution for retailers like you who need to quickly and accurately ring up customers, keep track of sales and manage their inventory and employees. With StoreTender Online you can create discounts and promotions; print shelf and barcode labels; accept credit, debit, gift and loyalty cards; and much more! Our touch screen interface is intuitive and easy to learn. We give you the tools you need to manage and grow your business.
StoreTender offers completely integrated Credit Card, WIC, Food Stamps, Gift Cards and Loyalty Program at the Lowest Rates from our Preferred Credit Card Partners (Click Here for List)
​  StoreTender Online handles
Transactions - Whether you're ringing up one or 100 items, StoreTender Online can handle it quickly and accurately. Our touch-screen interface looks and works fantastic. Accept all types of tender – from cash to credit cards. If you've ever used a cash register, you can be working with StoreTender Online in minutes.
Store Management - Keep track of customers, inventory and vendors – all in the Cloud. We leverage the internet to provide you with secure data storage without depending on a live connection. If your internet service isn't available, you can still ring up sales. Your transaction data is stored until the next time you connect and synchronize.
Reports - Business owners need up-to-date information. Find out what your top selling items or departments are with just a few clicks. Print informative reports on sales, customers, accounting and much more, so you know where your business is headed at all times.
Sales & Promotions - Easily create promotions to drive your sales. Complicated discounts and mix-and-match formulas are a breeze to set up. Cashiers don't have to remember to give out discounts – it's all done automatically!
How much is this going to cost me? Pricing is always a factor when making a decision about which Point of Sale System may be the best for your needs. StoreTender Online is priced at only $39.00 per month, per station. CLICK THE GRAPHIC TO BEGIN YOUR 14 DAY FREE TRIAL!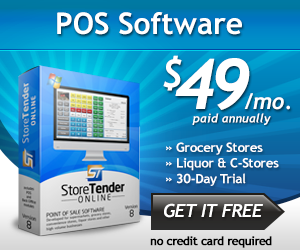 What have you got to loose? Try it and if it's not right for you, call us and we will help you find another solution. Remember ACT-POS Point of Sale offers more selection, more value.